LINK TO: Link
YEAR: 1994
ORCHESTRATION: 3(pic:pic,afl)3(ca)3(bcl)2+cbn/4331/timp.4perc/cel(pf)hp/str
DURATION: 24′
COMMISSIONED BY: BBC Philharmonic Orchestra
DEDICATION: Hans Werner Henze
AVAILABILITY: Novello & Co. London
PREMIERE DATE: March 3, 1994
PREMIERE INFORMATION:
BBC Philharmonic Orchestra conducted by Peter Maxwell Davies
St George's Hall, Bradford
INTRODUCTION: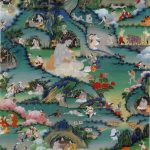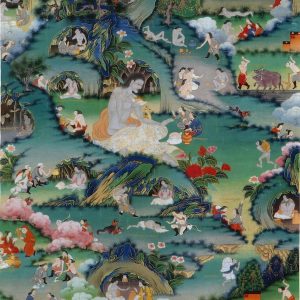 This work owes its inspiration to the story of the life of Milarepa, the eleventh century Tibetan saint. The title "Horse Tooth White Rock" comes from the name of the mountain in Tibet where Milarepa attained enlightenment. In its present form the work is scored for full symphony orchestra in two movements prefaced by an introduction. My work reflects upon important themes in Milarepa's life, according to the following scheme:
Introduction
An orchestral 'thunderbolt', a symbol and musical portrait of Vajrayana (Diamond Path), the powerful esoteric discipline that eventually leads Milarepa to transcendence and Enlightenment.
Movement I
After the death of Milarepa's father, his uncle and aunt ill-treat his family, annexing their property and reducing them to destitution. It is Milarepa's first encounter with the reality of intense suffering. Urged by his mother he leaves home to learn black magic, becoming in time a 'Great Magician'. By acts of sorcery he exacts a terrible revenge on those that preyed on his family. The results are inevitably death and destruction.
Movement II
Overcome with sorrow at the results of his wrong doing, Milarepa looks for a teacher to find a true path out of suffering and evil. His search leads to Marpa, a highly evolved spiritual master, who initially appears harsh and terrifying, making impossible conditions and requiring Milarepa to undergo incredible ordeals. The repentant Milarepa walks a path of humility and gentleness, submitting to this fierce discipline without anger, hatred and thought of attack, and thus becomes cleansed of the impurity of past action. He gains the affection of his teacher and finally obtains from him the compassionate teaching and method that lead to Enlightenment. Through meditation his life gradually awakens to a new quality of luminosity and purpose. In a serene and moving scene he takes leave of Marpa as he sets out on his own.
*
Horse Tooth White Rock was commissioned by the BBC Philharmonic Orchestra which gave the first performance in Bradford, England on 3rd March 1994, with Sir Peter Maxwell Davies conducting. The work received its German premiere with the Bayerischer Rundfunks Orchestra at the opening concert of the Munich Biennale on 29 April 1994.
Programme Note © Param Vir
Evening Standard (London) (4 August 2005)
Reviewer: Nick Kimberley
BBCSO/ Hempel
Royal Albert Hall
The Prom opened with Horse Tooth White Rock by Param Vir, born in India but steeped in Western classical music. Not that he has left everything Asian behind. Horse Tooth White Rock is built around the Tibetan myth of Milarepa, which provides Vir with a sturdy narrative structure of alternating restlessness and serenity.
The serenity contained the seeds of its own destruction, notably in the contrabassoon's angry mutterings, and intricate solos repeatedly burst free of the orchestral textures: a wonky viola melody representing Milarepa; a highflying violin line, both ecstatic and anguished. After an enchanting duet between cor anglais and cello, the cello pulled the rest of the orchestra into its melancholy orbit, and the work faded to a magical silence.