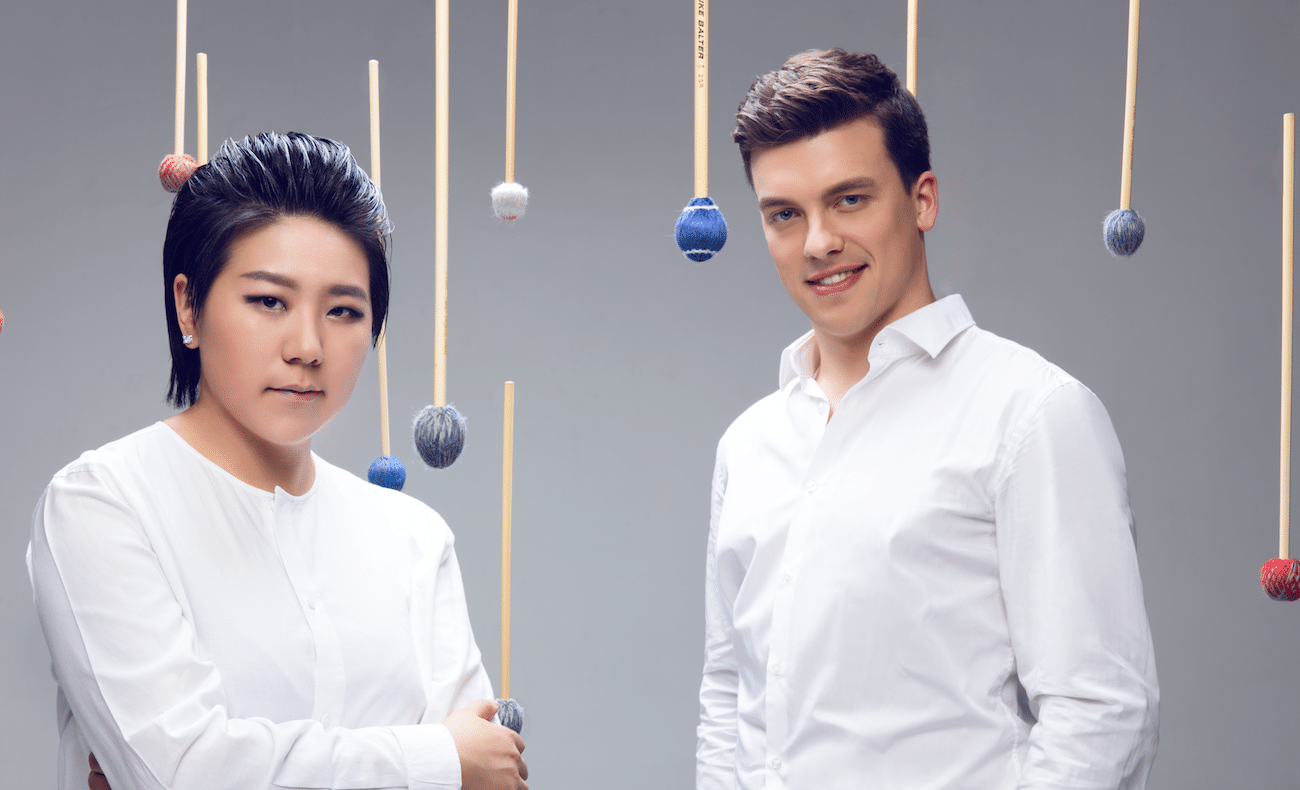 DRUM OF THE DEATHLESS – German Premiere at Bad Kissingen Festival
Premiere of a 2-percussion version of this work, originally written for 4 percussionists. This version was created specially for DoubleBeats, the Berlin based percussion duo who will perform it for the first time.
DoubleBeats was founded in 2012 by Ni Fan and Lukas Böhm during their studies at the Hanns Eisler Academy of Music Berlin and became one of the internationally most successful percussion ensembles.
A work inspired by Korean monastic ritual drumming, and commissioned by the Korean Music Project. The work creates a new ritualistic context for 2 players playing modern percussion instruments, in a new arrangement.
Drums of the Deathless is dedicated to the Korean composer Unsuk Chin, also based in Berlin.
Ni Fan – percussion
Lukas Böhm – percussion
Works to be performed:
Emanuel Sejourné: "Departures"
Johann Sebastian Bach: Goldberg-Variationen (Auswahl, arr. DoubleBeats)
Robert Marino: "Eight on 3 and Nine on 2"
Minoru Miki: Marimba Spirituals (arr. DoubleBeats)
Avner Dorman: "Udacrep Akubrad"
Param Vir: "Drum of the Deathless" (Uraufführung der Fassung für 2 Schlagzeuger)
Astor Piazolla: Tango (arr. DoubleBeats)
Tomer Yariv: "Gyro"
Der unwiderstehliche "Drive" des reinen Schlagzeugklangs wird von DoubleBeats aus Berlin in den Rossini-Saal gebracht. Ein beinahe spirituelles Programm, das die (Standesgrenzen überwindende) Kraft der Meditation auf die Zuhörer überträgt. Der aus Indien stammende Komponist Param Vir schrieb sein Werk "Trommel der Unsterblichen" unter dem Eindruck eines Aufenthalts in einem buddhistischen Kloster, wo die riesige Trommel von einem Mönch zur morgendlichen Gebetszeremonie geschlagen wurde.
About Drum of the Deathless (Duo)
An exciting version of this work for two percussionists playing a large array of percussion instruments. The rhythms developed here were inspired by ritual drumming at a Korean monastery, as well as Tibetan Buddhist chanting and Indian Tala technique. The title of the work is taken from a defining moment in the Pali Canon which chronicles the Buddha's life.
Learn more about Drum of the Deathless (Duo)>